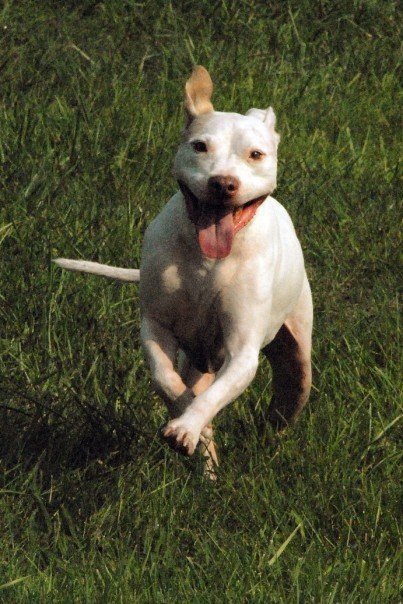 It was a warm April afternoon in 1999.  Tony and I were at the shelter, taking pictures of the adoptable animals, as we did every Friday.  We were exhausted and filthy as we neared the end of the kennels.  But then, in the second to last cage, there he was.
Technically, his fur was white, but it was so short, and his belly so bare, he looked more pink than anything.  He was overjoyed to see us, as though he'd been waiting for just that moment when our eyes met his.  His whole body wagged and wobbled with pleasure, his green eyes blurred with motion, his red watercolor nose pushed towards us, its color spilling onto his surrounding skin.  His ears stood out from his head at odd and delightful angles, one straight, one flopped over at the tip.
We put the camera aside.  He was impossible to photograph in such a state of joyful agitation.  Instead, we gave in to his affection.  He licked our faces, nibbled our ears, climbed into our laps.  As we laughed and hugged and petted him, we noticed he was slowly starting to swell.  His face looked even pinker than before and red lumps began appearing all over his body.  Tony ran for help, while I stayed behind.
He almost died that day, this sweet dog, from an anaphylactic reaction to the vaccine he'd just been given.  But he survived.
The shelter staff named him Petey, after the Lil' Rascals' pit bull, but somehow the name didn't seem quite right to us.  Not that it mattered.  After all, we were leaving for our junior year abroad in Berlin in less than a month and we certainly weren't about to adopt a dog.
And yet, there was something about him.  Our once or twice weekly shelter trips were replaced by daily visits.  As exam time arrived, we dragged our heavy textbooks along to spend long hours studying in the grass, Petey stretched out on his belly, legs extended behind him like a large pink frog.
Of course, he couldn't actually lie in the grass without breaking out in hives — he needed a blanket.  Vaccines were just the beginning of his allergic sensibilities.  He sneezed violently if we sat downwind of anyone taking a smoke break, the pads of his feet bled if he walked too much on the pavement, and his pink muzzle and ears had to be slathered in baby sunscreen for sensitive skin to prevent both sunburn and rashes.
And yet, his physical needs were nothing compared to his emotional ones.  Any time he sensed even millimeters of space between himself and the person against whom he was leaning, he stood and circled, plopping down forcefully a little closer than he had been before.  His gaze was penetrating.  Too much time without direct eye contact from the people he was attempting to charm caused him to stare earnestly until his trembling white shape forced itself out of their peripheral vision and into their center of attention.  Our center of attention.
Days turned into weeks.  The end of the school year approached, bringing closer our departure date for Germany.  Our days with Petey became shadowed in sadness, until one day the inevitable happened.  We decided we couldn't leave him.  Another volunteer offered to keep him for a month while we traveled and found an apartment in Berlin.  Our friend Dan, who saw a particular kinship in Petey and his allergic sensibilities, offered to drive him to the airport.  Our parents declared us insane.
We saw the complications and difficulties multiplying, but we didn't care.  We were elated, we were happy, we were in love.  Now that he was ours, we could find the right name for him, too, and we chose Bogart, though he quickly became known as Bogie, or Bogieman, the Boge, the Man, the love of our lives.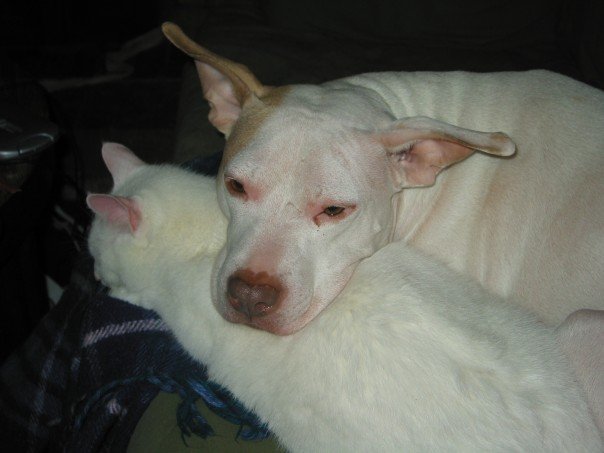 With him, we explored Berlin; through him, we met our dog park friends, spending long lazy summer afternoons in the park that used to be a no-man's land between the two Berlin walls.  In the winter, we stood huddled in the dark and cold, passing around a thermos of mulled wine, as our dogs orbited around us.  That incredible, amazing year we planned to make our reality after graduation.  Except for the pit bull ban.  We marched with our friends in protest through the Brandenburg Gate, a ridiculous muzzle hanging loosely from our sweet boy's face, and because of the ban, because the thought of muzzling this sweet boy for the rest of his life was intolerable, we didn't return.
Bogie charmed everyone he ever met.  When Tony's cousin broke up with her boyfriend, he protested, "But I'll never see Bogie again!"  When another cousin had major surgery at a children's hospital, we convinced the staff Bogie was a very poorly trained therapy dog so he'd be allowed to visit and cheer up James.  We kept a kitten we were fostering because despite her terror of us, she fell immediately in love with the big, pink oaf, winding herself around his front legs, purring violently.  He was there at our wedding, between us in the photograph of our wedding announcement, as he often slept between us under the covers, his head on one of our pillows.  He was there when we brought our first baby home from the hospital.  He was definitely always there, underfoot, in the kitchen, when there was food being prepared.  The one trick he ever learned was to sneeze and cough on command if we asked "Are you sick?" — a natural progression from the snuffling and snorting he did when a treat was nearby.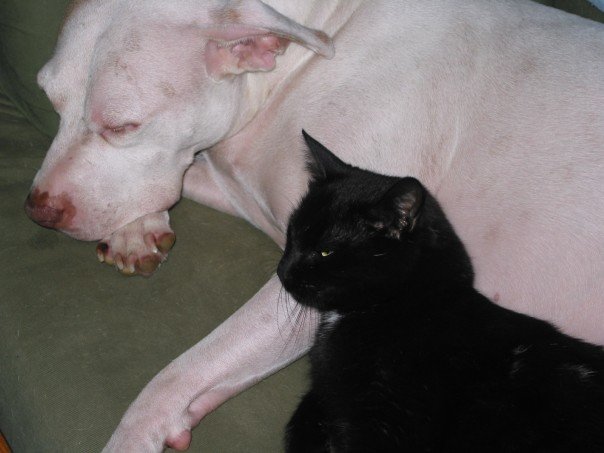 But then one day, he was sick.  We didn't see it coming.  He was only eight years old, and he was so good, to his very core, he couldn't possibly have cancer.  But of course it doesn't work that way.  Suffering and pain and grief are not doled out fairly and proportionately.  And he did suffer, in those six months following his diagnosis, as we tried everything imaginable to save his life.  I saw him suffering and turned my head away, convinced myself this was temporary because he would get better.  He would get better because he was such a part of who we were.  He would get better because the baby growing in my belly couldn't not know him.  We didn't know how to be without him.
But then six years ago today, we knew we had lost.  We had lost, and we were losing him.  On the way to the vet's office, I panicked.  I thought of how he loved food and how he would never eat again.  So we stopped for ice cream, and sick as he was, he lay in our laps and licked that ice cream in ecstasy, as he had all those years ago on warm summer afternoons in our park in Berlin.
I wish I'd been calmer, as I held him.  I wish my declarations of love to him had been less desperate, more gentle, as the life slipped out of him and his body  went limp in my arms.  I wish I'd been stronger for him, this boy who left us better for having known him, better for having shared his life, but oh, so lost without him.
Four years and one month later, we were back in our park again for the first time since we had been there with him.  And we were there again with him, with his ashes.  And we found a little spot beneath the trees in the birch grove overlooking the park, and there we buried him, in this place where we had really all begun.  And we have gone on living.  We have had children who do not know him.  We have joy in our lives, and we have another sweet dog who reminds us of our Bogieman every day.  But we also have the knowledge that we live in a world where suffering is not fairly distributed, not among people, not among animals.  We live in a world where dogs like Bogie suffer and die young, and yet, we live in a world in which there are dogs like Bogie.