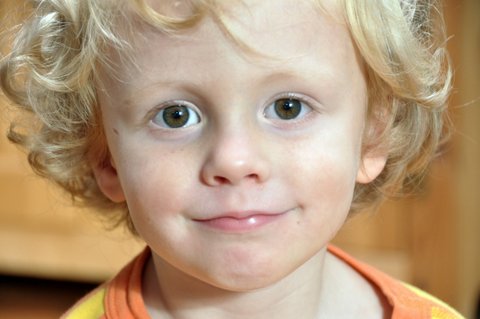 I remember when he first started. He'd just turned three, and we had just moved into the city. He felt so little to me to be sending him away for part of his day. But then we visited, and the director of the school crouched down to his eye level and spoke to him gently, and guided him from classroom to classroom, and picked a fig for him from the tree in the courtyard. And oh, he cried that day, tears of bitter anguish, not out of fear for what was to come, but out of despair that our visit to this magical place had ended so soon.
And my boy grew, that first year in the Block Room, where he played with toy animals and changed from one costume into another. Often, I arrived early for pick-up, just so I could park around the corner and watch him, running his skip run across the playground. The beautiful, rough-and-tumble playground that is more about exploring than about smooth, safe, rounded plastic equipment. While my daughter felt like a little fish in a big sea in kindergarten, plagued by stress headaches and stomachaches, my little boy thrived. Year after year, he thrived.
Oh, how he loved the Block Room, and even the next year, in the Art Room, he returned again and again to the Block Room to play. No one stopped him, no one told him he was too old for the Block Room, no one told him he should try something new. But eventually he did, on his own time. This year, in the Lego Room, he sought out the Block Room less and less, returning to it at the end of the year only to welcome his brother, who in turn was taking his first steps of exploration out of the Transition Classroom and into the Block Room.
What is it about this preschool? I feel the same way when people ask me what it is about Germany. I might list the bakeries on every corner, the cobblestone streets, the compost pick-up in the big city, the public transportation, as I would the thoughtful position statement on super hero play, the nature walks in the rain, the child-led learning, the understanding that your child will come home filthy on a daily basis, and that there will be a second set of muddy clothes in his bag. Or how the five-year-old class puts on a production of Peter and the Wolf, and there are many wolves and many cats and birds because everyone gets to be the part they want to be. Or how a chance discovery of a puppet theater on the way to visit the seniors turns into a multi-week project and a puppet show. But somehow, the whole is greater than even the sum of its magnificent parts.
I must admit, I was feeling pretty lucky over the last few weeks, watching my friends, whose youngest children are finishing their time at preschool. My second son just finished his first beautiful year there, and this baby in my arms, her time is still to come, and so I saw our family's time in this magical world is not yet over. But this week, it hit me, three whole years after that first visit, the first fig from the fig tree, the first tears of departure, it is the end of my oldest son's era there.
And as we cleaned out his cubby, he whispered to me, "Mama, I feel sad," and we held each other close and cried, there in front of his cubby. And I could hold my boy because one of the teachers had swooped in and carried the baby in my arms away in hers — safe and loved into the Block Room where she will one day play. And so I held my boy, and together we peeled the family pictures out of his cubby, and he wondered who would have his cubby next year, who would inherit his symbol, the one he picked out when his teachers came for their home visit before school started that first year.
What is it about this preschool? This preschool where teachers and parents and children all cry every day for the last week. This school where only the five-year-olds' parents take home their thick binders of pictures and quotes and adventures from all their years, and the parents of all the other children leave theirs to be filled in the years to come. This school where so many parents come back to teach, unable to leave its magic. This school where one parent turned teacher says she went into each room, when her son's time there had come to an end, and in each room, she cried, picturing him there, as he was at the age he had been. This school, where the parents had to gather after the last day, for a support group masquerading as a party, and the teachers came, too. And there we looked out over the children playing and running through the yard, seeing them captured again in this moment, after years together, captured one more time before they scatter to different schools and different lives like dandelion seeds, the first of many scatterings.
And I think my little boy was right to want to stay in the Block Room. And I think my boy was right, to cry those tears of anguish that first day, for this day that was to come.