I've been wanting to write in this space for such a long time, but I've been at a loss for a beginning.  I even reread Anne Lamott's Bird by Bird
, in which she tells the story of her writer father helping her brother finish an overwhelming school project on birds.  His advice to his son was to just take it "bird by bird," and that's how Anne Lamott tells us to write.  But I didn't know which bird should be my beginning.  All my stories, all the things I want to share — beginnings, endings, middles, none of them seemed right.  I berated myself for spending so much time not getting started on something no one was likely to read anyway.  But on Thursday night, after returning home from my writing group, I was again thinking how I still needed that first bird.  Just a way to start.  And on Friday, I found an extraordinary one, or rather, a little girl found it for me.
Friday morning was all about timing.  Had my friend not been out of town, we wouldn't have delayed our usual Thursday morning get together, nor would we have been at the park near my house since Fridays are the one morning I try to stick close to home.
I was a little late, as usual, but so was she, which she almost never is.  And so, instead of heading for the playground, my daughter walked towards our friends.  My son, who would normally have been in preschool during our get together, followed.  My friend's daughter, delighted to see him, raced across the grass to meet him, hugging him and lifting him up before letting him go and spotting there, on the ground, a tiny blue robin's egg.  She picked it up, held it for her mother to see, this colorful treasure, and I saw her mother wince as I did, catching a glimpse of the tiny bit of pink flesh, not an empty egg, and the ant, and I knew what it meant as did my friend's daughter, though she was only four, recoiling and dropping the egg.
But as the egg hit the ground, it moved more than it should have and I picked it up and brushed away the ants, and saw the tiny bit of pink flesh straining against the crack in the turquoise shell.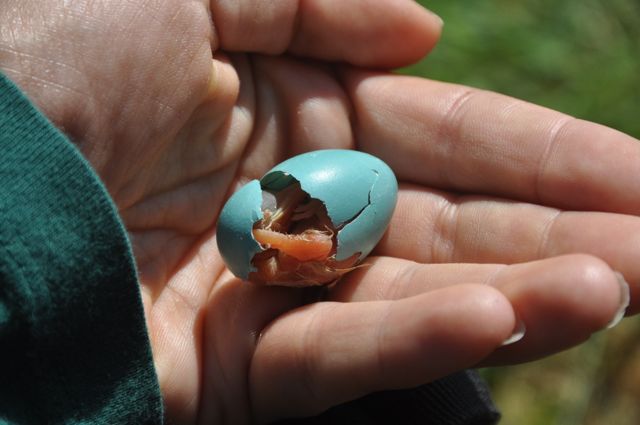 So many little, trivial reasons had brought us to him at just that moment, reaching him before the ants overpowered him.  After searching in vain for a nest, I called the wildlife rehabilitator, the one I'd called earlier that week about the lizard I wrestled from a cat, and she asked me a lot of questions, not quite believing the little pink creature inside the egg was really alive in there, not quite believing I wasn't mistaken as all other people have been who have called her claiming the same .
I wasn't mistaken.  I held this little turquoise egg in my hand, watching as the little being inside strained and rested, strained and rested with the work of birth.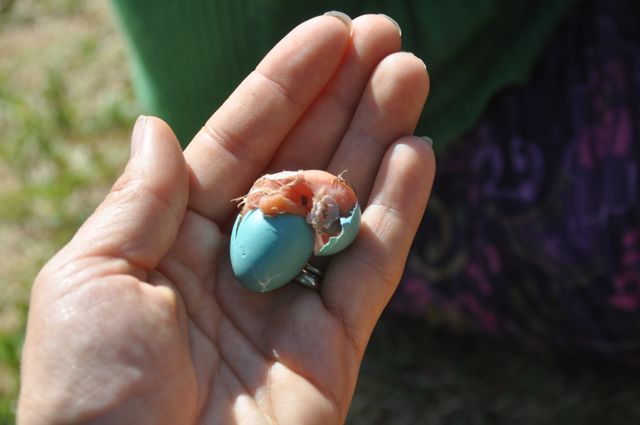 I saw the crack enlarge with each strain until finally, the little naked baby burst forth, mouth open wide and hungry.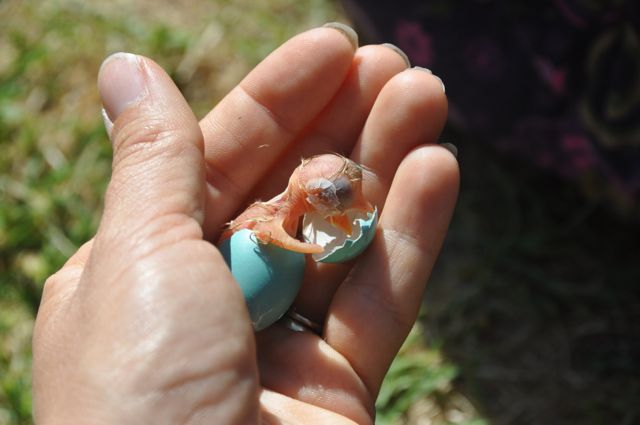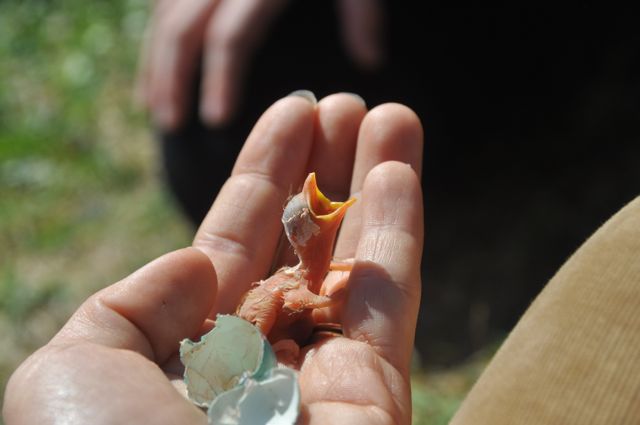 Finding no regurgitated earthworms, he settled into my hand to rest, his few tufts of fluff drying blonde in the sun.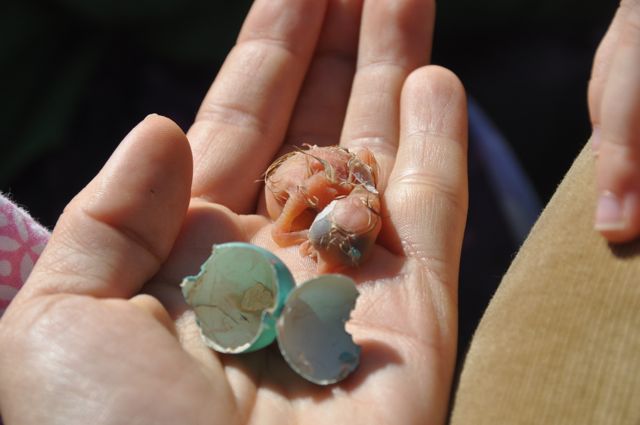 And I heard his first chirp, and I heard my daughter say, as I had once said, "Baby birds are so ugly, they're cute," but I looked at this naked, pink baby with his blonde fluff and his not yet open eyes, nestled in my hand, and I could find nothing ugly about him.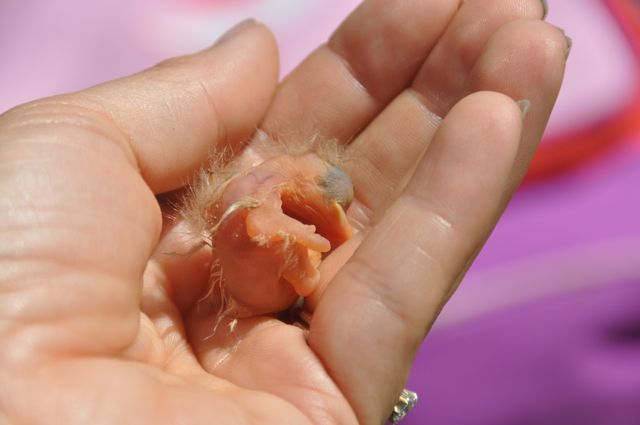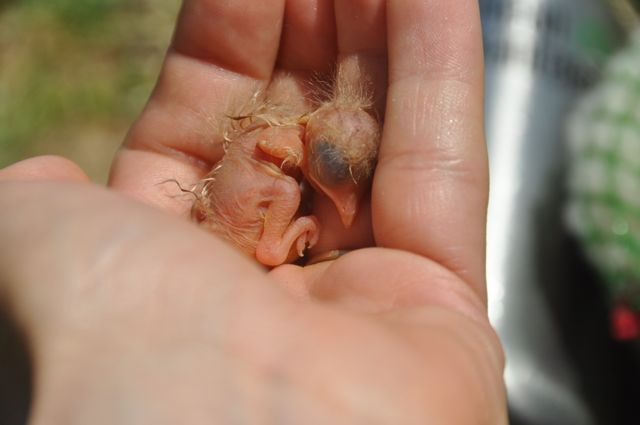 I had the honor of holding this sweet little soul, but I knew I wasn't experienced enough to give him his best chance at life, fragile yet strong as he was, so I only held him long enough for an experienced wildlife rehabilitator from Area Rehabbers Klub to come and pick him up.  Against all odds for such a little guy, he is thriving in her skilled care, and we're hoping all his strength and determination to survive continues.  I am so grateful to the many wildlife rehabilitators who dedicate so many hours, day and night, to give orphaned and injured wildlife a chance at life.
[social_share/]